It's 2019 and there is yet another personal massager available to the public who demanded an alternative between the Magic Wand Original and the Magic Wand Rechargeable models. For those who are new to the magic wand world and are here for the first time, welcome! If you have other magic wand models and want to know what's different/changed with the Magic Wand Plus, stay tuned. We will provide the background on why the newest Magic Wand Plus might just be the best personal massager for you.
Before jumping into the Magic Wand Plus, let's address the elephant in the room. To do this, let's answer this one question:
Why would you need another personal massager if you already have one?
Well, you really don't need this device if you have a Magic Wand Original or Rechargeable. However, since when do we ever just have one of everything? As a woman, do you buy one type of makeup brush for your cosmetic needs or many different versions? As a man, do you have a garage filled with tools or just one tool such as a screwdriver? Stick with us here and let us explain why you will be hooked the moment you turn on the HV-265 on and why you should add it to your pleasure toy chest today.
Plug-In Power
Having a plugin style personal massager has always made people feel comfortable. We aren't entirely sure why the human brain performs this thought process in this manner but we completely understand it and could relate. Knowing that the device you are using is plugged in brings a certain peace to the mind automatically. Most assume that there is no time limit usage when a personal massager is plugged in which is not entirely true. Most electronic massagers use a motor to spin rotations and create vibrations which ultimately provide the buzz people have loved with the magic wand. However, you wouldn't power up your blender at home and leave it on running for over 30 minutes, would you? If you did do this, the sound from the blender would drive you bananas and not the type your blender makes for protein shakes. The motor in an electronic device needs a cool down period. The Magic Wand Original, Plus and Rechargeable have a maximum 25 minute operation time. Although this may not seem like a long time, it will provide plenty of play time when you need it.
The Magic Wand Plus requires an adapter to power on.  This is not a cordless personal massager. If you truly want a cordless and rechargeable device, you can jump to the wireless magic wand found here. The interesting aspect of the charging adapter for the HV-265 is it actually removes for easy storage. Meaning, you no longer have to wrap the cord around the device for storage since the adapter itself could be kept separately. This ensures the life of the cord lasts since you wouldn't need to wrap it around massager and potentially damage the cord.
Plugin power does have a price and luckily with the Magic Wand Plus, it is very reasonable and fair. This is one of many reasons why this device was created since it's not as feature-rich as the Magic Wand Rechargeable but has more features than the Magic Wand Original. Let's call it the middle point of where you want to be if you can't decide on a full plugin versus a cordless designed personal massager.
Soft Silicone Head
The head of the Magic Wand Plus shares the same texture of the luxurious Magic Wand Rechargeable. The silicone material head is smooth, soft and plush feeling on the skin. While not the same material as the head of the Magic Wand Original which is an ABS/TPR blend, the plus is best for those who prefer smooth versus a hard plastic. We specifically mention this because some consumers actually prefer the style of the ABS/TPR hard head from the Magic Wand Original.
Speeds
The Magic Wand Plus personal massager comes with 4 vibration speeds peaking at 6,300 rotations per minute (RPM) and starting off at a timid 2,700 RPM. This allows the flexibility for those who do not want a powerful device at all times while feeding the hunger of those who demand it.
Attachment Ready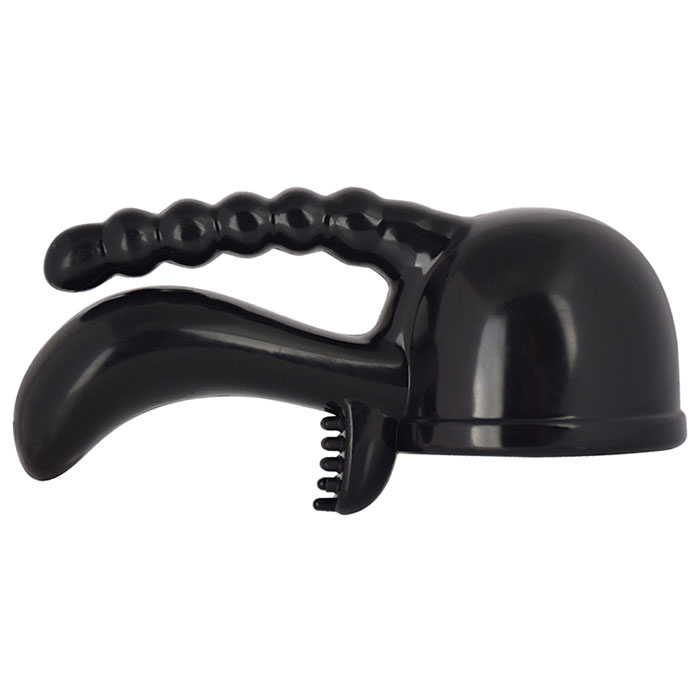 Magic Wand Attachments have become very popular and a must have for anyone who owns one of these devices. The benefit of using attachments on any of the magic wand models can be as simple as providing a different texture on your skin. Our magic wand attachments come in different sizes, shapes, materials, penetrating vs non-penetrating styles and more. The Magic Wand Plus has a 2.5-inch diameter size head which is capable of fitting all of our wand attachments. You will love these so make sure to add a few of these attachments when checking out your favorite Magic Wand.